Jun 07 2016
Part of a series of interviews with the writers for the upcoming speculative fiction anthology, Clash of the Titles. the anthology is the brain child of Glen Bavel, who conceived of an endearing conceit: he provides a list of titles and the members of his Facebook workshop, Writing the Short (SF) Story, use it as a starting point for a short speculative fiction story.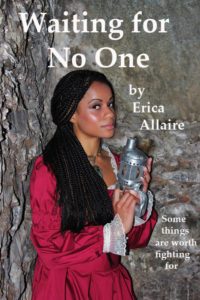 Serving up a dish of exciting steam punked paranormal for the Clash of the Titles anthology, Erica Allair, claims she's been writing since the third grade. We had to wait until 2014, to read her published novella, Eyes in the Twilight, and another year for her first novel, Waiting for No One. Published by CHBB/SteamWorks Press, both are steam punk alternate histories set in 1825 Boston. Erica loves writing in speculative fiction. To her, Science Fiction and Fantasy make so much sense, as opposed to the the real world, which she finds to be a combination of the confining and the incomprehensible. I had the opportunity to talk to Erica about her writing, her career and in particular, the writing of her story for the anthology, "Do You Feel Like Calamari Tonight?"
So let's start with an easy one: Who's your favorite writer?
Easy? That's an impossible question. Right now I am enthralled by N.K. Jemison.

What made you want to submit to it? Would you do it again?
Gil (the editor of the anthology) and I were chatting on line about the bastard children of SF/F—steam punk and paranormal romance. He said he'd be willing to consider steam punk in the anthology, and then I saw that particular title and I was hooked. Yes, I'd do it again. Probably another Xander and Lucy story.

How did you come up with your story? What made you choose that title?
Sometimes a word or a phrase will make a whole story emerge into my mind. In this case I was given the title. Once I had that, I knew most of the plot and characters in minutes.

How is your story for the anthology the same and/or different from your other works?
My other steam punk don't have any supernatural elements, so, for this story, I made up a whole new world: Demons and elder Gods and rappelling cords, Oh My!

A lot has been said about the workshop process wherein the editor takes a video meeting with the writers to help offer instant feedback and share the editing process along the way. How did you find this process; what are your feelings about it?
This was interesting, and I liked the instant feedback when questions came up. I'm used to works either being accepted with no major revisions or declined, with minimal comments, so this was a new experience for me.

What do you think is the most important thing that readers know about Clash of the Titles?
From the stories I've seen, this collection is going to be eclectic, thought provoking, and fun. While there will be lots of appeal to the general population, I really think that writer's groups could take away a number of lessons from this project.

It's said that the editor will make an anthology every year. Even if the "I pick the titles, you write the story" conceit isn't used again, would you work with the editor again? Why or why not?
Absolutely I would work with Gil again; I've enjoyed the process, and it has pushed me well out of my comfort zone!

What do you think is the most important thing for booksellers, libraries and other outlets to know about Clash of the Titles that they don't know?
This anthology spans the gamut of speculative fiction, from humor to horror, and from fantasy to hard SF and everything in between.

Would you recommend the process to other writers; how did you find working with this editor to be compared to others?
This was more effort than working with most editors, who use a more 'take it or leave it' approach, and also gave more benefit. I don't think it's for everyone; you should be secure enough in your writing voice and craft to be comfortable sometimes agreeing gracefully with changes and sometimes standing your ground.

What excites you most about the process, and the anthology in general?
I am thrilled with the world building that took place. The back story of this world is already easily ten times as long as the actual story. I will have no choice but to revisit it.

Did your story grow in ways you didn't expect due to the workshop nature of the process? How?
At one point Gil asked me to expand a scene pretty majorly, and then basically said "OK, cut that, but let what you now know happened inform the rest of the story." I'm really happy with the changes that this brought to the story.

What other projects are you working on, besides Clash of the Titles.
I am working on a sequel to Waiting For No One, another alternate history steam punk romance tentatively called Running From No One, and at the same time I am playing with a far future SF romance that turned into a trilogy when my back was turned.
If you'd like to see more of Erica Allaire, you can visit her website, or her Amazon author page, or follow her on Facebook.
Leave a Reply
You must be logged in to post a comment.