Aug 22 2016
Part of a series of interviews with the writers for the upcoming speculative fiction anthology, Clash of the Titles. the anthology is the brain child of Glen Bavel, who conceived of an endearing conceit: he provides a list of titles and the members of his Facebook workshop, Writing the Short (SF) Story, use it as a starting point for a short speculative fiction story.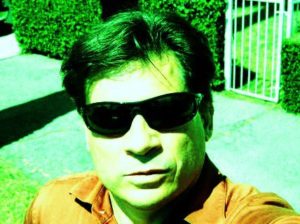 While Duane R. Waite has been an avid and prolific writer since he was a kid, "Worst Neighborhoods of Epsilon Eridani," his contribution to the upcoming anthology, Clash of the Titles, is his first professional sale. Duane blames his maternal grandmother for giving him the writing bug. For his eleventh birthday, she gave him a copy of Jack London's Call of the Wild, and he's been infected ever since, even winning first prize for a short story in his high school's writing contest. Jack London, along with healthy dose of television's "Star Trek," prepared Duane for Harlan Ellison's works. Through Ellison's Dangerous Vision series, Duane was exposed to such greats as Phillip K. Dick, Robert Silverberg, and Philip Jose Farmer. By the time Duane rode Farmer's "Purple Wage," he had become a committed SF writer. Duane shared his thoughts with me about the anthology, his story, and writing in general.
How did you find out about the anthology, and what made you want to submit?
A notification appeared on my home page and I said to myself that if there was ever a sign from the Universe that I should take an advantage of an opportunity, this was it!

How did you come up with your story? What made you choose that title?
I actually connected with most of the suggested titles in some way, but, "Worst neighborhoods of Epsilon Eridani," did nothing for me. I saw that as a challenge, a way to create a brand new story out of whole cloth without any expectations.
How is your story for the anthology the same and/or different from your other works?
This is a tough question to answer. One of the reasons I had such a late start in my writing career is that I didn't know how to write about people. I could describe an amazing environment for a story to take place in, but for some reason I couldn't get my head around how to center a story around a character in conflict. This story is unique in the sense that I finally broke through a wall and "got it." It doesn't matter how lush or well thought out other story elements are; we read stories to empathize with characters, whether they be human or alien. Now that I understand this, you are going to be hearing a lot from me.

A lot has been said about the workshop process wherein the editor offers the writers help with instant feedback and shares with him the editing process along the way. How did you find this process?
His critiques were spot on, and I referred to them frequently as I worked out the story. I never would have gotten such quality attention from an editor at a major magazine, and I can't thank Gil enough for it.

What do you think is the most important thing that readers know about Clash of the Titles?
This anthology is built on raw passion. I can't even begin to comprehend how much work Gil has put into it, even with everything else he is dealing with. Unless you are in a truly unique circumstance, there is always time to feed your passion if you can commit to it.

What do you think is the most important thing for booksellers, libraries and other outlets to know about Clash of the Titles that they don't know?
There are talented writers with unique stories to tell who are looking for an audience, and that there is an untapped audience waiting for their stories. Our distant ancestors weaved great tales around the camp fire, and despite our newly connected, virtual reality oriented world, we are still human beings who crave meaning through the stories others tell.

What other projects are you working on, besides Clash of the Titles?
I've started work on my next story, which I hope to send off to Analog or Asimov's soon, and I'm working on a novelization of "Worst Neighborhoods."

You can follow Duane on Facebook.
Leave a Reply
You must be logged in to post a comment.