Aug 22 2016
Part of a series of interviews with the writers for the upcoming speculative fiction anthology, Clash of the Titles. the anthology is the brain child of Glen Bavel, who conceived of an endearing conceit: he provides a list of titles and the members of his Facebook workshop, Writing the Short (SF) Story, use it as a starting point for a short speculative fiction story.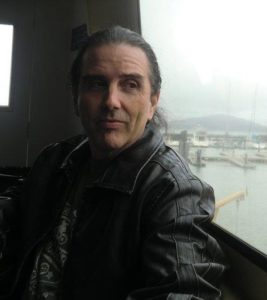 Horror author, John Claude Smith has been writing fiction, seriously for over twenty-five years (albeit with a brief fiction hiatus for music journalism). He has two collections, three limited editions chapbooks and one novel to his credit. His novel, Riding the Centipede, was a Bram Stoker Award finalist for 'Superior Achievement in a First Novel.' John Claude Smith's offered another helping of horror with his story "The Delivery," one of several spine tingling stories in the upcoming anthology, Clash of the Titles. He splits his time between the East Bay of northern California, across from San Francisco, and Rome, Italy. Recently, John discussed with me his writing career, and his participation in the anthology.
So, what draw you to the Horror genre?
Exploring the dark places has always fascinated me…and I like monsters.
How did you find out about the anthology, Clash of the Titles, and what made you want to submit?
A couple of other writers on Facebook pointed me in the direction of the Clash of the Titles page, and while writing to an already pre-chosen title seemed odd, I thought it a challenge.
How did you come up with your story? What made you choose that title?
I had chosen another title originally, but something about this title–"The Delivery"–started to generate a tale in my head, one that uses clichés as part of the internal drive, something I would normally avoid, but here, it made sense…before twisting into something unexpected.
What other projects are you working on, besides Clash of the Titles?
I'm in the middle of putting together my third collection, doing final tweaks on a completed novel, while digging into a novella that might end up being a short novel, too. Busy is good.
Check out John's story in the anthology, but beware, because 'sometimes running out of time might mean running for your life. Or running into something much worse than death…'
You can check out John Claude Smith's other works at Amazon, or on on Goodreads.
Or, you can follow him on Facebook.